De nieuwe adventskalender van Clinique
Goed nieuws voor de Clinique fans onder ons: ook dit jaar lanceert Clinique haar bekende adventskalender: 24 Days of Clinique. De Clinique Adventskalender 2019 is gevuld met 24 heerlijke huidverzorgings- en make-upfavorieten. Een heerlijk cadeau voor jezelf of om iemand anders eens even flink in het zonnetje te zetten.
Inhoud adventskalender
Dit is wat er achter de 24 deurtjes te vinden is dit jaar:
Deep Comfort Hand & Cuticle Cream;
Liquid Facial Soap Mild 30ml;
DDML+ 30ml;
Clarifying Lotion 2 60ml;
Moisture Surge 72-Hour Auto-Replenishing Hydrator 30ml;
Moisture Surge Hydrating Supercharged Concentrate 15ml;
Rinse-off Foaming Cleanser;
Smart Night Custom-repair Moisturizer 7ml;
7-day Scrub Rinse off Cream;
Moisture Surge Overnight Mask;
Smart Customer-Repair Serum;
Fresh Pressed Renewing Powder Cleanser;
All About Eyes 5ml;
Pep-start Eye Cream 7ml;
Take The Day Off LLL 30ml;
Almost Lipstick 1.2g Black Honey;
Clinique Pop 2.3g;
Blushing Blush 3.1g;
Precious Posy;
Lash Power Mascara Black Onyx;
Blush Brush;
Quickliner for Eyes Intense;
Pep-Start 2-in-1 Exfoliating Cleanser 30ml;
Aromatics in Black Perfume Spray;
Pop Splash 1.5ml Air Kiss
Details
De kalender is vanaf 1 november 2019, exclusief verkrijgbaar bij Ici Paris XL en online via www.clinique.nl. De adviesverkoopprijs is €69,-.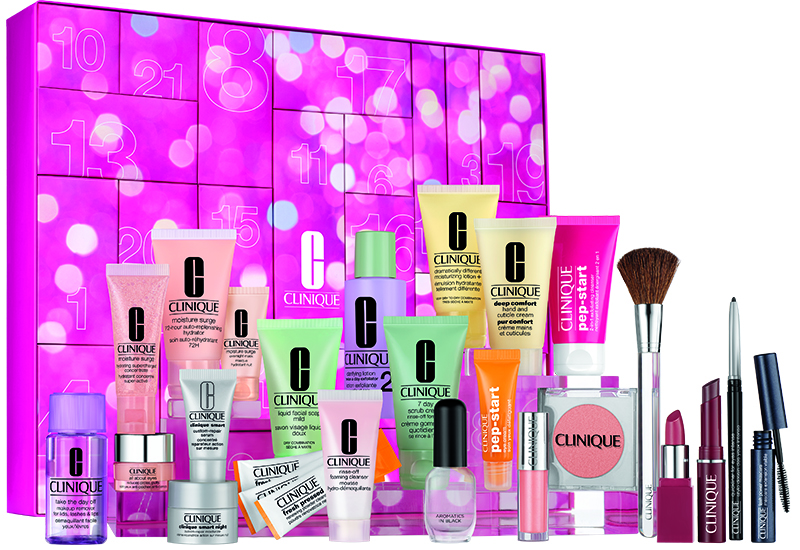 Wil jij op de hoogte blijven van al het laatste lifestyle nieuws en meekijken achter de schermen van de Lifestyle NWS redactie? Volg ons dan op Twitter, Facebook, Instagram en Pinterest!