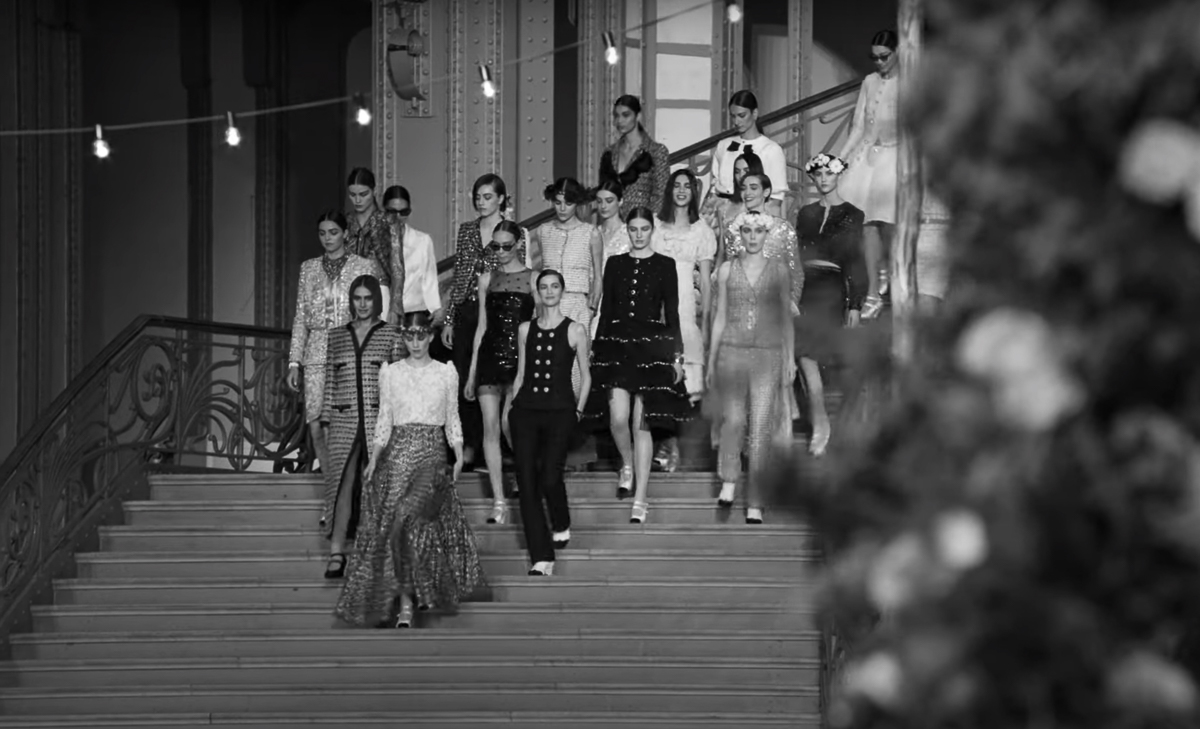 Chanel Haute Couture Spring-Summer 2021 Show
De pandemie is nog niet voorbij, maar dat wil niet zeggen dat Paris Fashion Week deze maand niet door kan gaan. De gedwongen switch van een fysieke drukbezochte Fashion Week naar een online alternatief, is inmiddels al een jaar van kracht en dat betekent dat de grootste modemerken van de wereld steeds creatiever worden als het gaat om het tonen van de nieuwe collecties. Dit is dan ook goed te zien bij de Chanel Haute Couture Spring-Summer 2021 show.
Chanel Haute Couture Spring-Summer 2021 the movie
Net zoals we gisteren bij de Dior show zagen, heeft ook Chanel de presentatie van de gloednieuwe Chanel Haute Couture Spring-Sumer 2021 collectie presentatie in een prachtige film gegoten. Chanel omschrijft de nieuwe collectie en de presentatie hiervan als volgt:
"A lighthearted and elegant spirit animates the CHANEL Spring-Summer 2021 Haute Couture collection imagined by Virginie Viard. The film of the show was directed by photographer, filmmaker and graphic designer Anton Corbijn."
Frontrow bij Chanel
En het positieve aan de huidige situatie is natuurlijk dat wij allemaal van achter onze laptop, een frontrow seat krijgen aangeboden, zo ook bij deze prachtige show.
Vanaf de eerste minuut is de klassieke signature van Chanel duidelijk zichtbaar; luxe tweet, vrouwelijke lijnen, de Chanel knopen, perfect afgewerkte (zacht) gekleurde spring-summer designs waarin je je op en top vrouw voelt. Dit alles gegoten in een prachtige film, begeleid door prachtige muziek en een romantische verhaallijn. Afgesloten door een bruiloftscène waarin de bruid te paard, samen met haar toekomstige man, de runway betreedt. De film begint in zwartwit en gaat hierna prachtig over in mooie opgewekte lentekleuren. Dit alles geregisseerd door Anton Corbijn. Kijk even mee..
Meer fashion artikelen? Check onze uitgebreide Lifestyle NWS fashionrubriek! Wil jij op de hoogte blijven van al het laatste lifestyle nieuws en meekijken achter de schermen van de Lifestyle NWS redactie? Volg ons dan op Twitter, Facebook, Instagram en Pinterest!