Een woordenwolk in een handomdraai
Iedereen krijgt wel eens een verzoek om een A4-tje te maken voor een vertrekkende collega, jarig familielid of vrienden die gaan trouwen. Het A4-tje moet een leuke tekst, gedicht, collage of foto's bevatten.
Wij hebben een site gevonden, waarmee je snel een leuke collage kunt maken door middel van woorden. Je geeft een aantal woorden op dat betrekking heeft op de persoon en vervolgens klik je op 'Go'. De site maakt dan een zogenaamde 'Tag Cloud'. Dit zijn de woorden die je eerder hebt opgegeven in verschillende formaten. Grappig feitje: de website kan ook een woordentolk maken van een bepaalde site.
Hoe maak je de woordenwolk?
Ga naar www.wordle.net
Klik op 'Create your own'
In het tekstvak geef de gewenste woorden op
Klik op 'Go' en het A4 wordt gemaakt
Pas de styling van de woordenwolk naar keuze aan
Wil je een Tag cloud van een bepaalde website voeg dan de betreffende url in zoals wij hier gedaan hebben voor www.lifestyle-news.nl: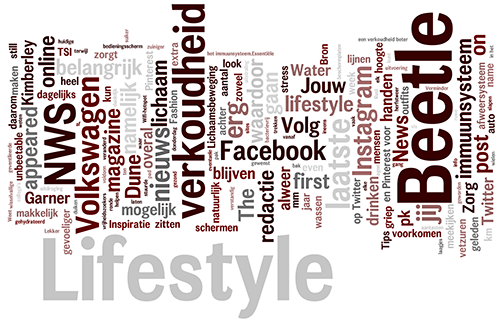 Wil jij op de hoogte blijven van het laatste lifestyle nieuws en meekijken achter de schermen van de Lifestyle NWS redactie? Volg ons dan op Twitter, Facebook, Instagram en Pinterest!